Aquahealing Workshops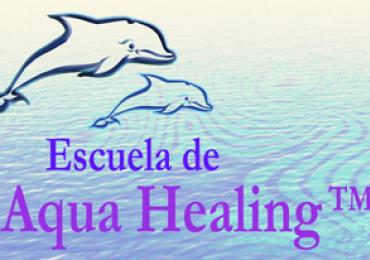 There are 4 stages of teaching. The first stage is oriented on how to move and hold a person in the water, and showing how we can be and meet from the Heart. In the first level we are working in water couples, one who receives and one who gives, and the other way around. In this stage all the sessions are guided in the beginning. At the end there will be some time for the first steps of improvisation, finding your rhythm and exploring your style.
During an intensive second stage we go into the depth of Being from the Heart, sharing from an inner silence and our sacred space. We use breathing, sound healing and energy healing, all with the tenderness from the heart. We have the chance to unveil and bring in the beauty that we are, and to experience that our inner space may start resonating with the Love that surrounds us. In the second level we are in a studio on land and participants receive teachings on the basics of aura cleansing, energy healing, sound healing, chakra awareness and breath meditations.
In the third stage we are entering the water again and work in water couples and with the group, to experience as well what it is to be in communion in the water, and to be one moving energy. We will explore new movements, we practice the movements we have learned before, we integrate all we have experienced in the second stage in a session and we share one or a few water rituals together.
I always ask the participants to invite a friend for a water session after a workshop, to get acquainted with the movements, with all aspects of giving a session and to discover their style. After the first two stages of teaching it will be possible for most participants with earlier experience in body or energy therapies to start giving sessions and to develop themselves. I always recommend to start with friends and acquaintances first, and only in a later stage with clients.
In the fourth stage of teaching I am looking to what participants do need to grow further, after they have gone through some experiences on their own, and this may be different for every participant, depending on their background. In the fourth stage I may teach more in detail about energy healing, sound healing, breathing, balancing the chakras, sacred geometry, and how to further integrate this in the water work.
The fourth stages of teaching are based on experience and the level of the participants who are usually interested to come to my workshops. Most participants have already received some trainings in body- and/or energy work before. This is however not necessary to start with the first level, if a participant is sensitive and open to learn.
A question I quite often hear is, what is the difference with other water therapies…?
Besides all the aspects of how to hold and move a water child, I teach to be in the heart and to feel and become aware of subtle energies. From an open heart our chakras start moving and expanding, and from here you become a radiant Being. Even if you are not conscious of what is really happening, you will feel the Love and from here you can receive and transmit healing energies.
There are well known water schools teaching among others Watsu, Aqua balancing and Aqua Wellness. The movements in the water are easy to learn and were inspired in one way or another by the creation of Waterdance in the 1980´s. The movements and techniques used in Watsu are inspired by Shiatsu traditions and Waterdance. However, they usually do not teach about energy & sound healing, and they do not focus on the energy interaction between the water practioner, the water child and the water (article Aqua Healing can be send on request).
I feel that the spiritual preparation of the water practioner and the awareness for subtle energies is the most important aspect of sharing and giving a water session, or any kind of session to another person.
In Aqua Healing, I focus people to be and stay in the heart during a session, and to act with awareness and intuition, to feel the subtle energies which are constantly around us. And from this openess we may have the chance to enter a sacred space and flow into an awareness of Light and Love. It is really about an integrated way of Being and acting.
The only way by finding out yourself is by direct experience of yourself, by either joining and experiencing a workshop, by taking a session or a private meditation class.
In Aqua Healing the same or similar waterdance movements are integrated as used in Watsu, Aqua Wellness, Waterdance, Water healing dance, Jahara or Oceanic Aqua balancing with additions of Pranic healing, Reflexology, Aroma & Gem therapy and the Art of Being.
Waterdance workshop for Couchsurfing in Buenos Aires & Rio de Janeiro - Experiences, sharings…
Tengo que agradecer públicamente a Marcel por la magnífica noche que compartió con nosotros, mostrándonos lo que es Waterdancing. Es realmente una experiencia hermosa y que uno tiene que experimentar y vivir para entender. La relajación que se logra es muy profunda y florecen sentimientos de afecto muy bonitos. Realmente lo disfruté mucho!! Llegué a sentirme como un pez en el agua, incluso que yo era parte del agua. Genial, que se repita! Gracias Marcel! Un fuerte abrazo Rolo by Sol Principe from Buenos Aires, Argentina
by Rolando Guy from Buenos Aires, Argentina
Marcel, thanks for giving me the chance of exploring the water in another way. I thought I knew most of it, but well I'm only a die-hard swimming fan, but you've shown me that is still got a long way to go. Water`s so much more than what we really think it is! I hearty recommend diving into this experience… which is the same thing as diving deep into yourselves. +:) Marcel, gracias por darme la posibilidad de explorar otra de las formas de estar y vivir el agua. Creia que sabia mucho sobre el agua, pero bueno soy solo una enamorada de la natacion, pero por suerte me mostraste que aun tengo un largo camino por recorrer. El agua es tanto mas de lo que creemos! De corazon recomiendo sumergirse en esta experiencia que es en realidad lo mismo que bucear en uno mismo. +:)
by Juanjo Cardoso from Buenos Aires, Argentina MARCELLLLLLLLL GRACIAS!!!!!!
Yo también me encuentro aquí para agradecer a Marcel el avernos introducido a esta hermosa practica llamada Water Dance. Personalmente no podría describirlo pero es un poco como lo expreso rolando, fusionarse con el agua misma y ser parte. Espero que se repita. Thanks y nos vemos por la Vida!
by NANU REMY from Buenos Aires, Argentina
Marcel muchas gracias por la actividad organizada ayer! Super recomendable para todos, sumamente original y distinto a todo! Espero que se repita! Gracias y saludos!
by Amy Scott from Buenos Aires, Argentina
Acá estoy a decir la misma cosa… estuvo una experiencia muy, muy linda, muchas gracias a Marcel, y a todos, para crear un espacio cariñoso y seguro.
by Sacha Pereyra from Buenos Aires, Argentina
Fue tan lindo cerrar los ojos y solo dejarte ir… Soy una enamorada del agua, pero la actividad q tuvimos me dejo queriendo mas. Es tan distinto a lo q normalmente hacemos, los movientos y las sensaciones se pueden disfrutar intensamente. Muchas Gracias!
by Julia Cohen Kichic from Buenos Aires, Argentina
Escribir ultima sobre esta experiencia es como repetir lo que antes ya dijeron, pero lo que mas quisiera resaltar es el espacio que se creo para poder vivir una experiencia sumamente introspectiva, compartir algo muy interior con los demas, dejarnos en las manos del otro, entregarse y emocionarse con un abrazo. Gracias a todos, esperare ansiosa la proxima!!!! Besos y abrazos submarinos!!!!! Julia
by Vivianne from Rio de Janeiro, Brazil
I want to thank Marcel so much for the wonderful experience that I lived saturday! It was so great! I felt so relaxed, so soft that I take that strengthened energy to face the stressful days that I have ahead of me. Marcel, thank you so much for your generosity and gentleness. My sister ask me to thanks too, especially your effort to make her understand you because she doesn´t speak english. :) Thanks Kátia to open your beautiful house to receive us to the delicious lunch. Thanks Roberta for the precious ride. And thanks Gabriela for the sympathy. So, it was a great day! hugs for all
by surfersoul Katia from Niteroi, Brazil
I would also like to thank Marcel for coming here to Brazil to share with us his wonderful technique. I also felt very relaxed afterwards, in a state of wonder and well being. I also enjoyed meeting Vanessa, her sister Roberta and Gabriela. Thanks again for everything, Marcel, keep sharing your waterhealing dance around the world! Cheers Katia
by Gabriela Melo from Rio de Janeiro, Brazil
I am so lucky I was able to experience a water session with Marcel, and I thank him a lot for that! I was taken in a journey into deep varied feelings, which culminated in a sensation of bliss and ecstasy I can not describe! Everyone should try this at least once in your life, it is amazing! Also it was great to meet the girls: Katia, Roberta, Viviane and her sister. I´m sure we´ll see again in some CS meeting! Lovs, Gabi
The experience of Aqua Healing is a transition into new worlds…
Water Yoga & Aqua Healing for pregnant women, water babies, children & the partners
The baby is for nine months in an aquatic environment. Surrounded by the uterus the baby is floating and moving in the belly, free from the consequences of gravitation, and protected against the influences of strong light, hard sounds and touching. It is for the baby a safe, protected and comfortable environment.
By going into warm water during the pregnancy, you can create the same safe and comfortable situation, which is comparable with the situation of the floating baby.
When the mother is floating in the water, the baby gets a little bit more space to move. They often become active and you may feel them better in your belly. Besides that, it is lovely to take the time to connect to your baby and to enjoy this together with your partner. For many couples, it turns out that these moments in the water belong to the most beautiful moments of the pregnancy.
The parents are welcome from the beginning of the pregnancy. Most couples start from the 4 or 5 month. The closer you get to the calculated date of birth, the more you will appreciate the effect of relaxation in warm water.
The upward force of the water gives a bigger freedom of movement until the last days of the pregnancy. This situation of reduced gravity, in combination with respiration exercises leads to relaxation in general, reduced pain in the back of the body and relaxation of the muscles. This may lead to a peaceful mind and a feeling of harmony of the pregnant mother.
In the water classes, we give attention to relaxation & respiration. We create a soft ambience in the warm water swimming pool by working with soft light & sound. The pregnant women are carried by their partners or by a friend. The partners will receive precise instructions how to move soft and gentle with the pregnant mothers.
By means of entering in a deep relaxation, we also give the time to the mother to make contact with the being of the unborn child.
Spiritual bathing - Bathing rituals & Healing around the World - Water community Experience with Sacred Geometry - Soundhealing in water > Workshops
Water and bathing brings men, women, children and whole communities in contact with their innocence and joy. Spiritual bathing brings them closer to the Divine. The best known practices are immersion and blessing with water, which express rebirth, and regeneration. But there are so many more bathing rituals & festivities we can share and create. Many of which we have never been aware…
The movement of water or our movements in the water, remind us of the constant changing of forms and rhytm of the Universe. Spiritual Bathing and all the acts and rituals of being in the water, loosen the control of our mind and strengthen our connection with the Divine.
During a spiritual bathing workshop you will be part of a loving community of people sharing a deep, beautiful and playful time in a warm water pool. We dance, we sing, we explore space and water, and share being and togetherness.
A spiritual bathing may lead to an inner healing. It may inspire you to create new things in life, and to share with your children, waterbabies, friends or family what you have experienced with us: the healing power of water and the Love we all are…
Gallery